Welcome to the Fall Into Fantasy Tour, where we are keeping your mind off any end-of-summer blues and welcoming the cooler weather by introducing you to some incredible fantasy reads to curl up with and giving you plenty of chances to win awesome prizes!
Week 13: The Darkworld Series
Prequel Novella: Fear's Touch
Book One: Darkness Watching
Book Two: Walking Shadow
By Emma L. Adams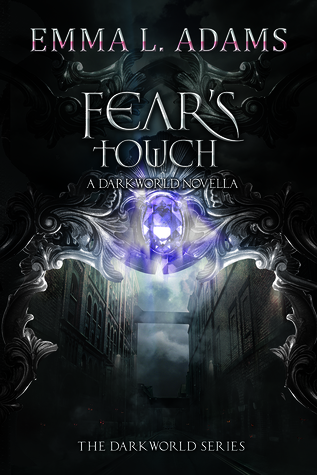 This is a standalone novella, intended as a prequel to the Darkworld series. As it takes place one year before the events of Darkness Watching, it doesn't contain any spoilers (although it does hint at things which will come into play later in the series).
Freakish powers and staring demon eyes aren't part of Claudia's plans for the future – and neither is ending up stuck at the gloomy, isolated University of Blackstone. But bad life decisions are the least of her problems, when a split-second decision to help out another magic-user puts her in the crossfire of both the shadow-beasts and the creepy organisation which hunt them down.
Claudia's never had to worry about making the right choice before, but every decision matters when you have a Darkworld connection. Soon, she's going to have to make a choice: turn her back on the crazy and try to live a normal life, or take the monsters down.
But in a world where everyone seems to have secrets, can she really trust her fellow magic-users – or even herself?
Add it to
Goodreads
Eighteen-year-old Ashlyn is one interview away from her future when she first sees the demons. She thinks she's losing her mind, but the truth is far more frightening: she can see into the Darkworld, the home of spirits– and the darkness is staring back.
Desperate to escape the demons, Ash accepts a place at a university in the small town of Blackstone, in the middle of nowhere - little knowing that it isn't coincidence that led her there but the pull of the Venantium, the sorcerers who maintain the barrier keeping demons from crossing from the Darkworld into our own world.
All-night parties, new friendships and a life without rules or limits are all part of the package of student life - but demons never give up, and their focus on Ash has attracted the attention of every sorcerer in the area. Ash is soon caught between her new life and a group of other students with a connection to the Darkworld, who could offer the answers she's looking for. The demons want something from her, and someone is determined to kill her before she can find out what it is.
In a world where darkness lurks beneath the surface, not everyone is what they appear to be...
Reviews:
"Demons, Sorcerers, evil, and secrets. Could you ask for a better supernatural suspense set-up? The plot is original, and completely gripping. From the first page, this book had me hooked."
- Rose at
Desert Rose Reviews
"A suspenseful first part to an intriguing new fantasy series."
-
Sharon Stevenson
, supernatural author
"The story is extremely well-written with effortless, flowing prose, and the original magic-user mythology and Darkworld creatures are very entertaining. The author took what might have been over-done premise and twisted it into something very fresh and exciting." - Lexa Cain, author of Soul Cutter
"Emma is an amazing writer. She has become one of my favorites. I couldn't put Darkness Watching down."
- Diane at
A Creative Mind
When you have a connection to the Darkworld, nowhere is truly safe.
Ashlyn has found a new home in Blackstone, but when a spate of grave robberies across the country spark fears that someone is practicing illegal sorcery, she comes under the radar of the Venantium, the protectors of the Barrier between her world and the Darkworld, who are suspicious of any sorcerer who doesn't know their origins.
The trouble is, what Ash does know might just get her killed.
Sufferers of the dangerous condition known as the vampire's curse are being brutally killed, and the latest victim is Leo's guardian, the ex-head of the Venantium. Ash determines to help Leo find out what's really going on, but it isn't long before events are spiralling out of control. The dead are rising from their graves, and the barriers around Blackstone are threatened by a demon which looks exactly like Ash herself…
Coming December 1st, 2014 from Curiosity Quills
ABOUT EMMA L. ADAMS
Emma spent her childhood creating imaginary worlds to compensate for a disappointingly average reality, so it was probably inevitable that she ended up writing fantasy novels for children and young adults. She was born in Birmingham, UK, which she fled at the first opportunity to study English Literature at Lancaster University. In her three years at Lancaster, she hiked up mountains, skydived in Australia, and endured a traumatic episode involving a swarm of bees in the Costa Rican jungle. She also entertained her creative writing group and baffled her tutors by submitting strange fantasy tales featuring dragons and supernatural monsters to workshops. These included her first publication, a rather bleak dystopian piece, and a disturbing story about a homicidal duck (which she hopes will never see the light of day).
Now a reluctant graduate, Emma refuses to settle down and be normal. When not embarking on wild excursions, she edits and proofreads novels for various publishing houses and reads an insane number of books. At the age of 21, she signed a publishing contract with Curiosity Quills Press for the first book in her creepy urban fantasy Darkworld series. DARKNESS WATCHING was published in October 2013, and four more novels and a novella will follow. She chats about writing and other book-related things at her blog, From the Writer's Nest, and looks forward to sharing more tales from the bizarre depths of her imagination.
Find Emma online: Blog Website Facebook Page Twitter
Sign up to
Emma's newsletter
to be the first to find out about new releases
Want to get involved with the Fall Into Fantasy promotional tour?
Don't forget to join us at the Facebook party here!
If you are interested in joining up as a blogger, you can always sign up here. We are happy to welcome more bloggers into the fold as the promotion continues.
If you are an author or blogger and want to sign up to help with the party, please fill out this form.
*~*~*
Marsha A. Moore is a writer of fantasy and fantasy romance. The magic of art and nature spark life into her writing. Read her ENCHANTED BOOKSTORE LEGENDS
for adventurous, epic fantasy romance.
Or enjoy a magical realism tale of a haunted yoga studio with SHADOWS OF SERENITY. For a FREE ebook sample of her writing, read her historic fantasy short story, LE CIRQUE DE MAGIE, available at Amazon
and Smashwords.